It's basic Business 101. Whether you have an online business or a brick and mortar retail shop, you cannot make sales if you don't have visitors. It's plain and simple. If nobody knows about your business – no matter how great the product or how nice your website – you won't get any sales. Yes, without a steady stream of traffic to your website there is virtually no way that it can succeed (unless you're happy with inconsistent traffic and just a few sales here and there).
Revisitors.com offers targeted traffic to your website, clicks and visitors that come from a huge network of specialized niche websites. Each specialized website has its own singular market that received thousands of visitors each day. Revisitors.com then funnel these visitors using a proprietary algorithm and exhaustive manual review to maximize Internet advertising ROI (return on investment) and uniquely delivering large amounts of web traffic to your site. The claim is made that any purchased traffic from Revisitors.com is delivered to your website with the highest level of integrity.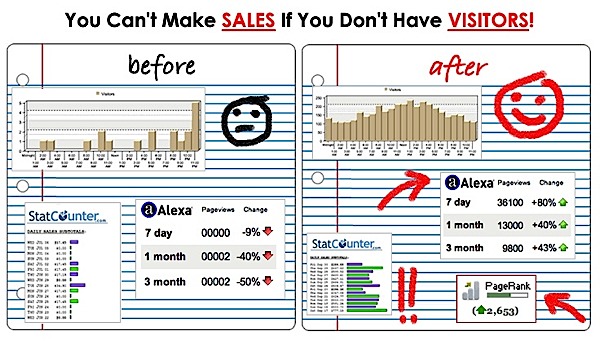 We are planning on trying out Revisitors.com to see just how qualified the traffic really is. Hopefully, we will be able to report good news on the volume and quality of visitors.
Prices start at $19.95 for 2,500 visitors and go all the way up to $349.95 for a whopping 100,000 visitors. If you break it down, the highest volume tier ($349.95 for 100,000 visitors) comes out to a mere 1/3 cent per visitor. Yes, you read correctly. That is one-third of one penny per visitor. There are intermedia plans available – six traffic plans in all – with the most popular one being Traffic Plan 4 which gives you 25,000 visitors for $99.95.

You can also gain additional web traffic by opting for the $19 booster service plan. This provides your website with the following convenient services:
– Search Engine Submission – Revisitors.com submits your website to more than 300+ search engines.
– Targeted Directory Submission – Revisitors.com submits your website to various leading online directories that match your geographical target.
– Blog Search Engine Submission – Revisitors.com submits your website to more than 60 blog search engines and directories.
**Update: We spoke to a few people who have tried Revisitors.com and they indicated that they have not generated many sales from their services. Proceed carefully as it appears that the quality of traffic is not very good.