Creating a web presence is easier than ever. Many web entrepreneurs can now launch an online website all on their own. Once you decide on a domain URL and pick a web hosting plan, the clever Internet entrepreneur can turn to WordPress to create a professional looking website. WordPress is a unique blogging software that allows entrepreneurs to publish content on the web. Write articles, post images, and create a clean looking website that rivals many professionally made websites.
There are many free WordPress themes that you can choose from but most are generic in nature. If you want a theme (a theme is essentially a website design), that is awesome and unique, you should consider affordable themes from professional design companies such as Studio Press, Elegant Themes, and Theme Forest.
Here are a few examples of professionally designed WordPress themes that you can choose from.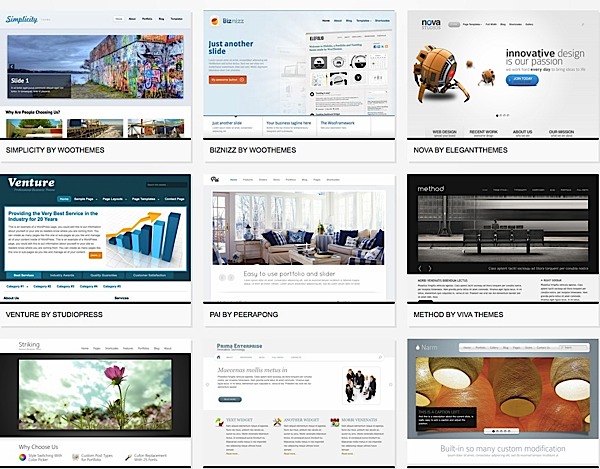 So now that you know about premium WordPress themes, which company should you work with. Based on the quality of their designs, competitive pricing, strong customer support, and professional services, we recommend the following three premium WordPress theme companies:
1) Studio Press
Brief summary of Studio Press:
– Sleek, professional turn key designs
– StudioPress premium WordPress themes – individual themes (designs) range from $59.95 to $79.95.
– Pro-plus package from Studio Press which includes 35+ premium WP themes all-inclusive for $299.95 (best deal for people who need to create multiple websites)
– State of the art security
– Allows you to update your site instantly
– Intuitive back end menu to help manage your content, images, and all things related to your website
Read the entire Studio Press review here.

2) Elegant Themes
Brief summary of Elegant Themes:
– Unlimited access to all Elegant Themes for $39 – note, that Elegant Theme charges $39 annually whereas Studio Press and most others is a one-time fee only.
– Cross-browser compatibility guaranteed (Internet Explorer, Firefox, Safari, Chrome, Opera, etc.)
– Intuitive theme options page gives you control
– A focus on support and community
– Frequent theme additions and upgrades

3) Theme Forest
Brief summary of Theme Forest:
– Offers WordPress themes as well as other popular blogging alternatives such as Joomla and Drupal
– Growing portfolio of themes allow you to quickly and easily transform your WordPress website into a professional quality site.
– Pricing starts at $1 though more popular, great looking designs will cost more.

Overall, there are a number of WordPress themes – free and premium – that you can choose from. As a budding start up entrepreneur you should consider whether you want to go with the free or paid options. While saving money is always a concern for start-ups, presenting your company in a impressionable manner and creating a strong brand is equally important. With fierce competition among the premium WordPress theme space, prices continue to go down which is to your advantage. As you will see, prices range anywhere from a few bucks to $299.95 for an all-inclusive, unlimited package. Depending on your budget and goals, you can have a professionally designed WordPress site with a few clicks of the mouse. It's all there for your taking and with enough patience and perseverance you can literally create a great looking website all by yourself.