BizzThemes offers blazing fast, completely customized, high quality and one of the best SEO optimized WordPress themes for small business websites and Professional WordPress theme developers.
Use the most flexible layout builder you may find in any premium WordPress theme. Everything you display on your site act as a widget, so you may use your site elements multiple times. Build multiple blogs, portfolios, galleries – even on the same page.
Why BizzThemes?
* Advanced Theme Options – With BizzThemes you can create perfect layouts, translate themes into any language and customize your designs in minutes. Options will give you control over all web-site areas so even if you're not a coder, you'll easily handle all web-site areas without stretching your legs.
* Complete SEO Options – BizzThemes offer advanced in-post and general SEO controls, with no need to install any other WordPress plugin. Search engine optimization one of our main goals when designing and coding new themes so rest assured your business will be visible online.
* Amazing Support – We provide well documented code and detailed installation instructions with every theme released. Besides video tutorials experts will be glad to assist you in our support forums when you'll feel need for more help.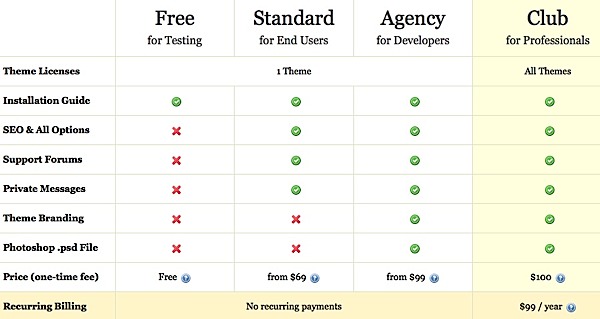 With Bizz Themes, you have complete control over your website. Its flexible design control allows you to manage your website with a few mouse clicks. No more complicated code or trying to learn PHP. You can change typography, color scheme, update content, and much more using Bizz Theme's intuitive control panel.
These premium WordPress companies really help out a small business owner especially one that is just starting out and trying to save money. Graphic designers can be very expensive. Now, you can virtually build your own website on a shoestring budget. You just need to have an open mind to learn (and the learning curve isn't all that high). And one of the great things about Bizz Themes is that if you run into a problem you can always contact them for help. That's a definite plus.