Studio Press is one of the most known and popular premium WordPress providers in the space. Founded by Brian Gardner, Studio Press is feature rich in theme design, selection, and ease of use. You can literally be a novice and figure out the WordPress theme structure provided by Studio Press. While the ability to navigate around WordPress certainly goes a long to help, even those without previous WordPress experience will be able to figure out the inner workings of Studio Press themed templates.
Studio Press Genesis Theme Framework is a complete theme framework designed by StudioPress that can incorporate child themes. You add Genesis to your themes folder on your shared hosting and activate it, you add your child theme and activate it and – bam – you have Genesis theme framework running under child theme. The Genesis child themes look amazing with a great layout and the ability to quickly switch between each other.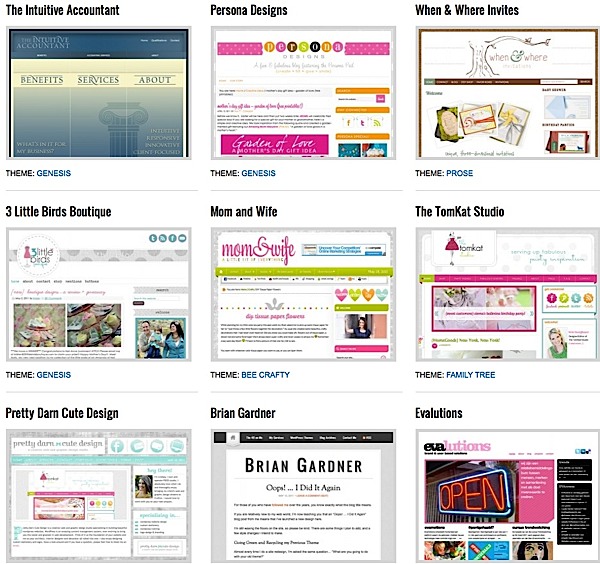 There are various purchase options available to get a Studio Press designed WP theme onto your website:
– You can simply purchase the Genesis Theme Framework for $59.95,
– Or you can get a Genesis Theme Framework along with your choice of a child theme for $79.95.
– If you have already purchased the Genesis Theme Framework, and you want additional child themes, you can opt for just purchasing a child theme for $24.95.
– Lastly, there is a convenient and most bang for your buck StudioPress Pro Plus All-Theme Package for $249.95. This package while more expensive does provide the most robust value giving you access to the entire StudioPress themes collection.
Feature of StudioPress WP themes include:
* Professionally designed and highly customizable.
* Search engine optimized for higher ranking potential.
* Free updates of existing themes and development of future themes.
* Image customization through PSD files
* User-friendly content management system with easy to use option pages and ability to add advertisements for monetizing your site
* Developed for localization
* Compatible with BuddyPress
* Compatible with Scribe SEO
* Studio Press support
* Extensive theme tutorials

Studio Press has a unique offering in that they base their large selection of WordPress themes around the highly touted Genesis Theme Framework and child themes.
So, what's the difference between a Genesis Theme Framework and a child theme? This question is asked often. The answer is simple. The Genesis Theme Framework is essentially the nuts and bolts and makes the theme ready and able to go. Not only does Genesis provide a number of enhancements above a typical WordPress theme, but they also serve as a platform to build upon for additional functionality. A child theme is an extension of a framework which is comprised of typical theme element. These elements are grouped together in what's known as a child theme folder and can be activated like any other WordPress theme.
Benefits of Studio Press
* Search Engine Optimized (SEO) Friendly – each StudioPress theme is not only beautifully created but also expertly coded so that it's SEO friendly out of the box. In fact, Studio Press has a slew of in-house SEO specialists to help ensure that their themes are designed to help boost your search engine rankings organically on Google, Yahoo, and Bing. Naturally, you will have to do the legwork and make sure your title, meta description, keywords, and other SEO strategies are aligned. However, StudioPress themed sites will provide you with all the help you need to increase your search engine rankings.
Clean and Professionally Designed Website Themes – look around and compare Studio Press to other premium WordPress theme providers. You will find that Studio Press is superior in terms of professionally designed themes as well as their customer support system. It is critical to have support and forum help when working on your new theme. Questions will come up and you don't want to be left hanging wondering how to do certain things. Simply contact support or start a new thread in the Studio Press forum and you will find have your questions answered in no time.