Woo Themes offers a diverse line of professionally designed WordPress themes. There is a reason why so many people, particularly business owners and new startups, decide to purchase a premium WordPress theme. Free versions provided by WordPress are fine for personal or entertainment purposes (such a a family blog), but if you're trying to make an impression in the business world especially if your end target is a consumer, then opting for a nice professionally designed website is the way to go.
That is where Woo Themes (like many of the other WordPress theme designers) come in handy.
You can find Woo Themes for any type of website – magazine/journal, business, portfolio (for instance, wedding photography or graphic design portfolio), multimedia, personal, and more. There are close to 100 theme templates to choose from and all can be easily added to your WordPress website. If you can't decide which theme is your favorite and/or if you're looking to create multiple websites, you may want to consider the all-access Woo Themes club for $125. It's a great deal if you're looking to create more than one site.
Click here to see more WordPress themed designs from Woo Themes.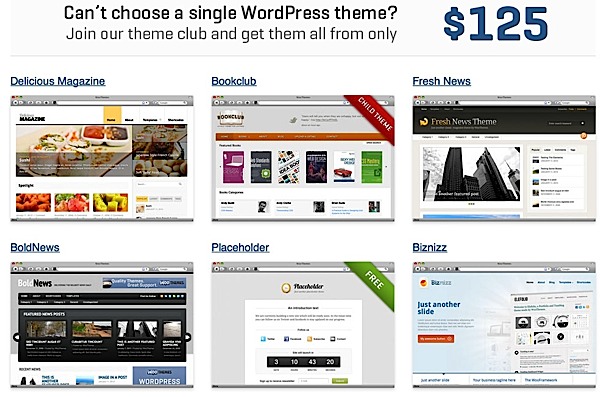 Pricing for Woo Themes ranges from $70 for the standard package and goes up to $200 for the enterprise version. If you're just starting out, I think the $70 standard package is sufficient. The following charts compares pricing and features for the different packages offered by Woo Themes.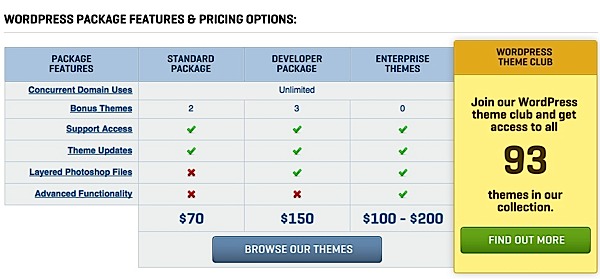 Woo Themes also offers a monthly fee membership clubs which gives you access to all 93 of their website designs. The membership club works best for multi-site owners, freelancers, and web agencies needing access to ALL our themes.
This ultimate web toolkit helps you jump start your web design process for client work, or eliminates it completely. Chop and change between themes, experiment with modifications and save time, money and energy in getting your business/products online.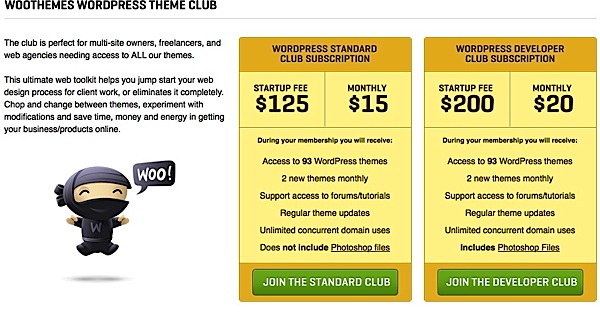 Woo Themes offers a nice selection of designs but we still prefer the overall product offering at Studio Press due to its better design, great customer support, and affordable price. We tend to stray away from membership clubs where you lose access to your website template once you stop paying for the monthly dues. We feel that once you pay for a template, you should be able to keep it.
See the latest deals at Woo Themes.